Singapore's hotel owners are not in the highest of spirits these days. Revenue per room has declined and so has occupancy, leading some to wonder how and when the city-state will recover.
Since hitting a peak of S$224.85 in August 2012, Singapore's overall revenue per available room is now S$199.47 – a decline of 11.3 per cent, while occupancy declined by 1.9 per cent during the same period. Though by no means a crash, it's enough to worry both owners and investors.
But as any investment banker will tell you, past performance does not indicate future results. A deep dive into Singapore's hotel demand by Savills Hotels suggests things are not as bad as they may seem – and they are likely to soon get better.
Tourism growth
The hotel industry has been cool, but tourism has continued to boom. International visitors to Singapore grew in number from 9.7 million in 2009 to 16.7 million in 2017. Growth paused only in 2014, when the key China market declined by 24.1 per cent after Chinese authorities curbed low-cost shopping tours. Otherwise, arrivals have grown consistently every year.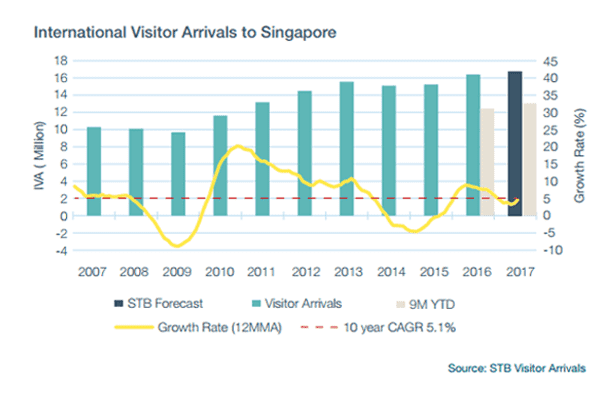 China and Indonesia are the largest sources of visitors, accounting for more than a third of all arrivals. While the growth of Indonesian visitors has stagnated, Chinese arrivals continue to grow, up by 7.6 per cent in the first 8 months of 2017, something that should hold steady for a long time to come, as just 6 per cent of Chinese citizens hold passports.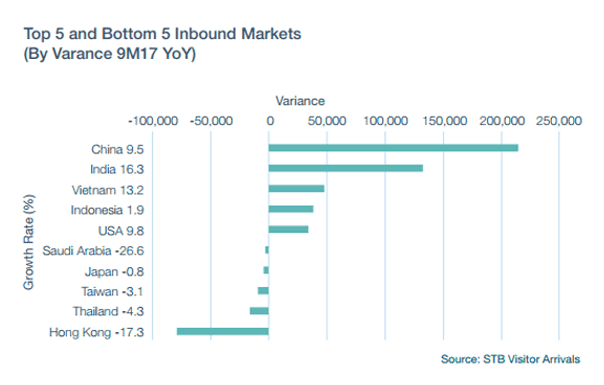 Economic recovery
A number of other factors should ensure continued growth. Singapore's economy is expected to have expanded by more than 3 per cent in 2017, much more than the 1.5 per cent originally forecast by the Singapore government. A quarter of all visitors come to Singapore for business purposes, which means a growing economy is good for the hotel industry.
Singapore's improving fortunes are matched by those of the global economy, which finds itself in renewed health after a long period of subpar growth. Global GDP growth averaged 3.9 per cent in the first three quarters of 2017 while trade expanded 4.7 per cent year-on-year in August 2017, compared to just 1.7 per cent a year earlier.
An expanding gateway
Changi Airport's T4 terminal opened in October 2017, boosting the airport's capacity by 16 million passengers per year, bringing it to a total of 82 million. Along with the new terminal, the Changi Jewel — a mixed use complex slated to open in 2019 — will cement the airport's reputation as a first-class global hub.
More reasons to visit
Singapore already ranks as one of the world's top destinations, according to the Mastercard Global Destination Cities Index and Euromonitor International's annual Top 100 City Destinations ranking. The Singapore Tourism Board is one of the best funded and most proactive in Asia, and it has recently launched a partnership with Changi Airport and Singapore Airlines to promote Singapore as a stopover destination.
And there will soon be more reasons to visit. The Mandai Zoo precinct is being revamped, adding two new parks by 2020 and a 400-room Banyan Tree eco-resort in 2023.
A supply glut
The growth in visitor numbers will help the hotel industry recover from a supply glut, which is one reason why revenue per available room and occupancy have declined in recent years. Since 2009, hotel room supply in Singapore increased by 67.9 per cent – a total of 26,734 rooms. In that context, the industry has held up relatively well.
This extended period of growth is coming to an end, with the 528-room Mercure Singapore on Stevens, the last major new addition, having opened in December, 2017. Supply will taper off significantly going forward, with only 3,288 more rooms to be added over the next four years.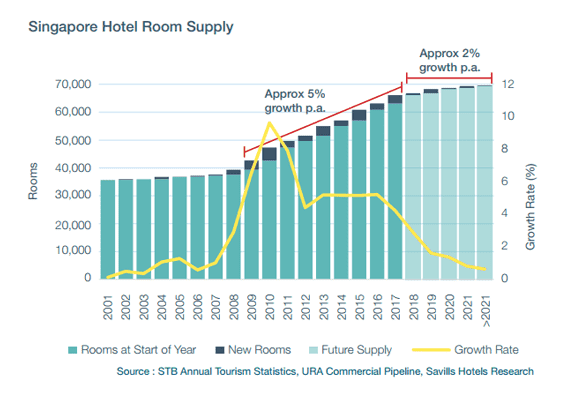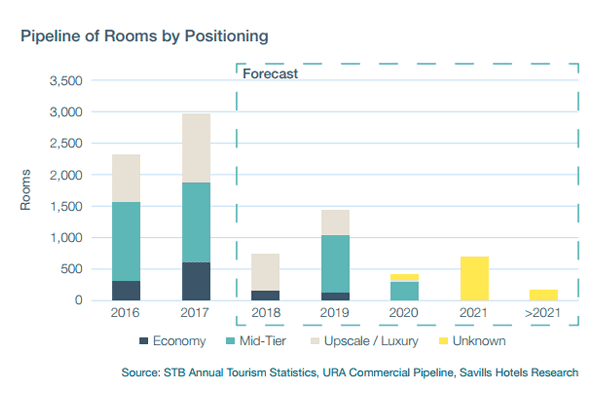 The forecast
The 10 year chart of hotel performance trends seem to indicate that we may be near to the bottom of the current cycle. However, taking into account the new properties which have opened but are not yet reflected in the data, it will likely take at least two quarters for the downswing to end. Things should improve by the second half of 2018 as new supply is absorbed by the market. It may not be long before occupancy and revenue per available room reverse their decline.