How much does it cost to accommodate an employee in Europe? The answer depends on exactly where in Europe you're talking about, but the stark difference between different locations has been clearly demonstrated in our latest 12 Cities report.
Looking at the combined cost of residential and office space per person every year, the cost of accommodating an employee in London is more than four times that of accommodating the same worker in Berlin, just over three times the cost in Dublin, and almost 30 per cent more than Paris.
Only four European cities were examined in our latest report – all of them capitals – so the variation between London and other 'second' cities not in the list would be even higher.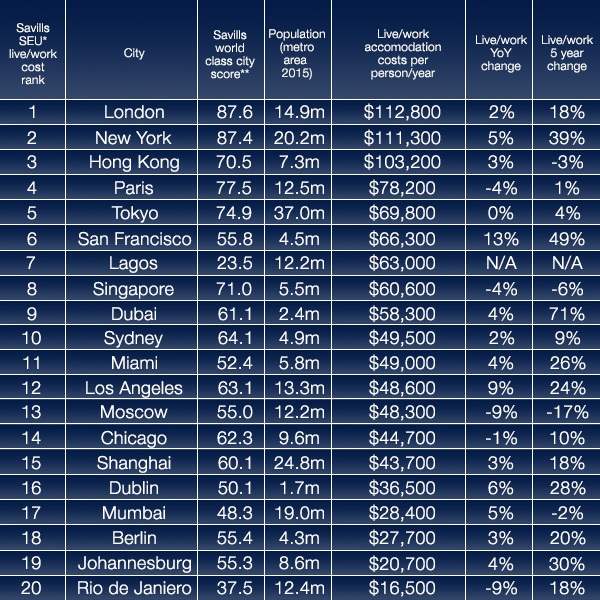 The average total cost of accommodating a worker across all the 20 cities we looked at was $56,855. However, the higher London figure raised the average costs across the four European cities we analysed to $63,800.
While prices in London have increased by 18 per cent over the past five years, the relative increase has been lower than in cities such as New York (+39 per cent), San Francisco (+49 per cent) and Dubai (+71 per cent). In addition, over the past year, the rate of increase in London has slowed with costs rising only 2 per cent. Other cities, although still cheaper overall, are seeing proportionally higher increases in costs, including Los Angeles, where they have risen 9 per cent.
While they are still relatively cheap compared with their European peers and many other global cities, both Dublin and Berlin, appearing in 16th and 18th position respectively, have seen significant increases in costs since 2010 as their potential has been recognised. These cities, with their history, culture and distinctive styles, have succeeded in attracting people – typically from younger generations – unable to afford to live in some of the cities which feature at the top of our table.
They have also fostered a spirit of independent thinking and creatively which, combined with other factors such as favourable tax regimes, has made them attractive to tech occupiers. Such companies have accounted for over a third of office take up in both cities in the past year, and could be responsible for them rising up the league table in the future as space becomes scarcer and residential costs and office rents rise accordingly.
Further information
12 Cities – Upstart Cities H1 2016: read the full report